Check the Facebook Page for up to date details.
The Bicycle Thrift Shop, 89 Thompson St., Unit F.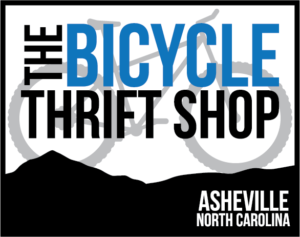 In addition to providing mountain bike outings to youth who would not otherwise have that opportunity, a goal of the shop is to provide bicycles and gear to our community at an affordable rate; providing transportation, recreation and a source of fitness to a population who would not normally have access to cycling.
We need your help to make it happen.
Here is how it works: You donate your cycling gear, used bikes etc. We invest the time and energy to breathe new life into them and sell them to the general public at an affordable rate. This will provide funding for the program, keeping overhead low and providing more opportunities for our community's youth. In the future we hope to offer structured kid's mechanic classes. In the meantime, kids are welcome to come in and get some hands on supervised experience, working on their own bikes.
Consider donating your "dusty but not rusty" bikes and gear, and then swing by for a visit.
You can also donate at REI Asheville, Motion Makers, Liberty Bikes, Sycamore Cycles, Youngblood Bicycles, and Ski Country Sports. (if you are interested in being a donation location, contact us)
If you don't have gear to donate, please consider helping us cover the cost of operation so that we can offer kid's mechanics classes free of charge.
We don't take bikes in for repairs and overhauls. All of the local bikes shops that support us, offer that service and we don't want to compete for their business. However, we will help out with minor repairs, such as a brake rub, shifting adjustment. If the job is more than we can handle we will direct you to a local bike shop to get you rolling again.
So, come on in today and see what we have to offer!